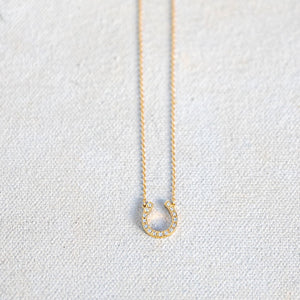 The Horseshoe is a powerful symbol of good luck and protection.  Some believe that it can also protect you against negative energy creating a positive feeling.  Perfect plain or as a layered style our Horseshoe Necklace is encrusted with petite pave diamonds to add a little extra shine!  Available in 14 Karat Gold, 14 Karat Rose Gold, and 14 Karat White Gold.
Chain Sizes are automatically adjustable between 16-18 inches
Chains are also available in 15 inches and 20 inches
The Horseshoe is 3/4 of an inch long and 3/4 of an inch wide
*This is a custom made item and will take 2-3 weeks to make and ship.