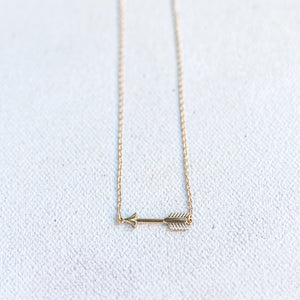 The Arrow signifies direction, force, movement, power and direction of travel. When an arrow is pointed to the left it wards off evil, while pointing to the right shows protection.  Perfect plain or as a layered style!  Available in 14 Karat Gold, 14 Karat Rose Gold, and 14 Karat White Gold.
Chains are also available in 15 inches and 20 inches
The Arrow is 1/4 of an inch long and 3/4 of an inch wide
*This is a custom made item and will take 2-3 weeks to make and ship.