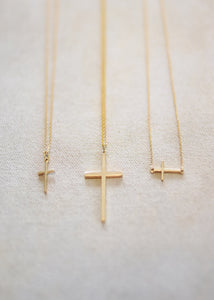 The Cross Necklace is a beautiful simple piece that can either be worn longways or sideways.  Perfect plain or as a layered style!  Available in 14 Karat Gold, 14 Karat Rose Gold, and 14 Karat White Gold.
Chain Sizes are automatically adjustable between 16-18 inches
Chains are also available in 15 inches and 20 inches
Small Cross is 1/2 an inch long and 1/4 of an inch wide
Large Cross is 1.25 inch long and 3/4 of an inch wide
Sideways Cross is 1/4 of an inch long and 2/3 of an inch wide
*This is a custom made item and will take 2-3 weeks to make and ship.